Dear Bride-To-Be,
If you're getting married soon and you're in the market for a wedding photographer, then I wrote this just for you.
I need to tell you a story. Yesterday, I showed my wife's cousin (we'll call her Molly), my wedding photography and she began crying...like, immediately. "Wow," I thought! My pictures really moved her! Turns out I was only half right. While she WAS moved by my photos, she was crying more out of sadness for not having images she truly loves to remember her own wedding by.
"I wish I had even ONE photograph I truly love from my wedding," she sobbed.
She went on to explain that she and her man decided to spend more on their venue, caterer, and flowers, and photography sort of just "got what was left" after that. They'd chosen a friend of a friend, who was just getting started in photography, and who wanted to shoot more weddings to gain more experience. Since she offered them such a bargain, they couldn't resist! The result was a photographer, who, while she was "
affordable
", took photos that were, in Molly's words, just sort of "meh". So "meh", in fact, that she doesn't even have any hanging up around her house. Instead of beautiful, timeless, emotional images of her wedding, Molly, her husband were left with regret and sadness...all to save a couple of thousand bucks. She's also sad because her kids and grand kids don't get to have beautiful images to experience such a treasured day in the story of their family. She told me that if there were ONE THING she could have done differently for her wedding it would have been to
invest
in great photography. Now, this was an extreme case because Molly was recounting her story through her tears, but I have to be honest with you - I hear stories like this
all the time.
In my work, I create
images that create a deeply emotional experience
when you see them. I develop trust and friendship with my clients, learning what's most important to them, what they most treasure in their fiance, and then bring those things out for the camera during our time together. In addition to un-intrusively capturing the love and emotion that's already present, I facilitate intimacy as I guide my couples through their photography. Whether or not it's a fit for me or my team to shoot your wedding, I urge this of you:
make photography a REAL budgetary priority for your wedding.
Your wedding photographs are forever.
Long after the memory of the food, flowers, and even your venue have faded, your photographs are what you and your family (for generations) will have to remember your wedding; which is what makes wedding photography the only true
investment
in your budget (since of course, the very definition of an "investment" is something that grows (not shrinks) in value, over time). Everything else is here today and gone tomorrow. Poof! The photographs, alone, are forever. With that said, if you'd like to learn more about how you can have me, or one of my incredible associate photographers create images that evoke powerful emotion and bring you vividly back to how you felt on your wedding day, then fill out the form on my
contact page
and let's set up a time for a call where we can talk about what's most important to you for your wedding photographs. I'm not the best fit for every couple though. If you're looking for super "posed," conventional photos, you're probably better off working with someone else, as my work is heavy on genuine, authentic emotion, and lighter on the posed stuff. Look forward to hearing from you. Warmly,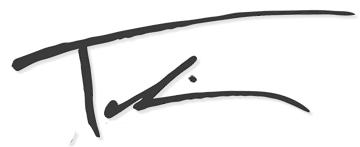 Tobin Poppenberg